[
Homepage
] - by:
Valery V Shmeleff
-
Download links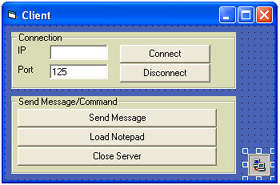 Click to enlarge
Description:
Step-by-step Visual Basic tutorial -
programming simple client-server application, transmitting information and
commands through the network using the protocol TCP/IP. We will use network
functions through Microsoft Winsock Control. Ebook includes
documentation in MS Word format, illustrations, examples and full vb-projects
(source codes).
Comments
(
Add comment
)
<!Comments>
Don't you know that it's high time to receive the loans, which can make you dreams real.
<!>
The loan seem to be important for guys, which would like to organize their career. As a fact, that's not really hard to get a financial loan.
<!Comments>